Welcome to my 100th post. I have a lot of things to share with you all so I'll go ahead and get right into it.

First and foremost, I apologize again for Southern Motion not shipping, I've been having some major difficulties with the printing of the DVD booklets and i really don't want to send out garbage to you guys so I'm going to spend a little more time getting everything right before I send you the final product, but my apologies, I had to start doing everything myself so getting the materials and then printing is proving to be quite the problem. But rest assured, I'm working on it and I will have some fire for your dome soon.

Second Southern Motion Premiere here in Greenville this Sunday (Aug 16th) will be happening here in Greenville, SC. For the reason above, I unfortunately won't be able to sell the completed copy at the premiere but will be offering just the DVD in a sleeve at a lower price for those who are interested peep game on the poster:

And as always, feel free to email me with any questions.
3rd. The day before my premiere (Aug 15th) the Starnes' are hosting the Boots, Burgers, and Hammers at their place in ATL and its going to be awesome. I want so bad to go but work simply will not allow it so you should show up and bring 10 of your friends in my place.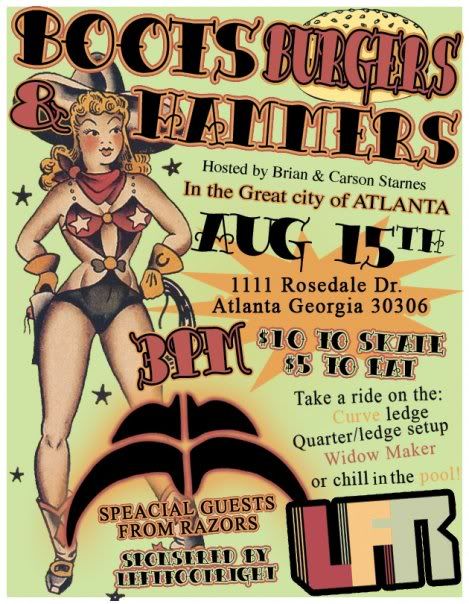 There will be a showing of Southern Motion there too so if you don't get to my premiere maybe you can see it there.

4th. I redesigned the Difference Productions logo in some downtime and am very happy with the outcome of this one compared to the first.

5th. I have put up my GL2/accessories on
ebay
and officially going Hi-Def once it sells. For this reason I am clearing out old footage from my computer so I can start fresh. I have a couple edits already done and will post them periodically. But this first one is of good dude Tim Taylor, Tim has been skating park really good for a really long time and as proof I encourage you to watch this extremely awesome park edit of him:
Next week, comes the long awaited Dustin Hinson Park edit, so stay tuned for that, I should have alot of edits cranking out in the next short while.

6th. I had some awesome freelance opportunities for MoGraph come up here lately so between that and working I'm staying extremely busy, but I'm still taking the time to skate and make edits because that's just what I love to do. This will most likely be the last post I make this week but I will continually updating regulary again, I wanted to make sure the 100th post was something really good!
I hope you enjoyed, and hopefully I will see alot of you doods at the premiere!