With so much filming going on every weekend, sometimes, I get so caught up in getting footage and shooting every second of the day's happenings that I don' t have the chance to skate. So, every couple of weekends or so, I leave the camera at home, grab my headphones, strap the blades on and skate for the reason I started skating so many years ago, pure enjoyment.
So, no screen shots of any rollerblading, but being the busy body I am, I am up to something....
As most of you know, this is the weekend of the infamous
Panhandle Pow Wow
and, judging by the messageboards, the turnout this year is expected to be pretty big. Now unfortunately for myself, due to money and work constrictions I won't be able to attend.
So, since I can't go, I decided to put together 25 DVD's with some internet edits people have seemed to enjoy of the past couple of years.
Coverwork: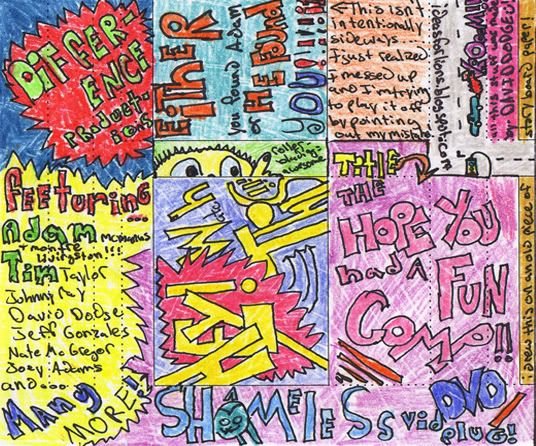 I guess its sort of my way of contributing to Blake's comp since I can't show up. There is a short trailer at the end, to show case a couple of the people that will be skating in the video, but it's nothing real fancy so don't get your hopes up too much.
If you like to grab one of these you simply have to go up and find Adam Mcmanus:
And ask him for your copy, and he should oblige,
they are completely FREE.
In finality these are ultimately for your enjoyment. Of course, I want people to look at my motion/editing and get excited about future products, but the edits on this DVD are ones that remind me of how fun it is skating with my friends, and hopefully, will do the same for you. So find Adam pick one up, and let me know what you think, stop lurkin' and comment sometime!

Have fun at the Panhandle!!!
And if you're not going, come rollerblade!